Delicious and Easy Beef Cannelloni Recipe for Families
My kids love family meals that involve pasta. Given a choice I think that they would eat pasta every day if they could. For a long time, we stuck with the same dish but as we've worked on getting our fussy eater to eat more and more things we've expanded. This Beef Cannelloni Recipe is one of our new favourites.
Beef Cannelloni Recipe
This isn't a particularly quick meal to make unless you prep ahead a batch of the beef and tomato sauce that you can then just add the cheeses too.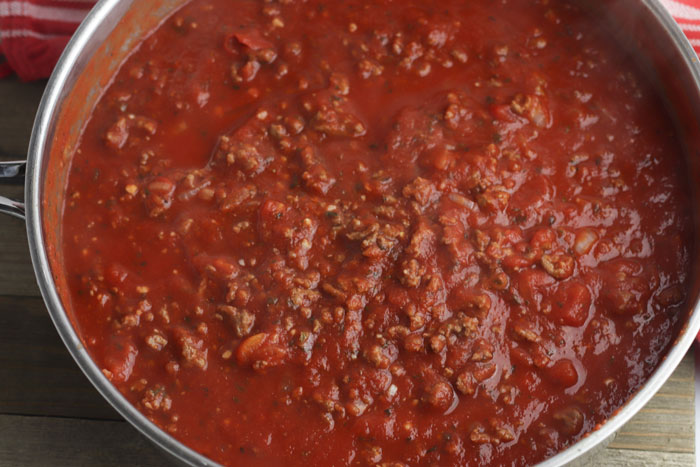 In fact, this is what I tend to do as half the family don't like cheese we make a batch in a small ovenproof dish without the ricotta and mozzarella cheese and a second batch for myself and my daughter with cheese in a large baking dish so there is room for the cheeses to melt on top of the sauce.
Ground Beef is one of the ingredients that we buy from the butchers every week and we've been loving trying out these Ground Beef Recipes over on 3 Boys and a Dog.
Subscribe for Tasty Treats Straight to your Inbox
Making the Beef and Tomato Cannelloni Sauce To Freeze
I don't think cheese freezes very well so what I do, I cook a batch of the beef, dried herbs and spices and tomatoes then freeze it into containers.
Each container has around 400g of ground minced beef steak in it and is frozen.
Then when we plan to have our baked beef cannelloni on the meal plan for the week I can bring out a container to defrost and quickly reheat it to make up the batches for the family.
Which means that the meal can be made on a school night in 30 minutes.
Just make sure that you double or triple the recipe below to make it in batches like described.
Check out our chicken carbonara for another quick weeknight meal for the family that they will love.
Ingredients for Easy Beef Cannelloni
1 package cannelloni noodles
1 pound ground beef
1 tablespoon parsley flakes
1 teaspoon red pepper flakes
1 teaspoon oregano
1/8 teaspoon ground nutmeg
1 small onion, diced
3 garlic cloves, minced
1 14.5-ounce can diced tomatoes
1 28-ounce can tomato sauce
1 15-ounce container ricotta cheese
2 cups mozzarella cheese, separated
How to Make Beef Cannelloni
1. Bring a large pot of water to a boil. Add cannelloni noodles and cook until al dente, around 5 minutes.
2. Remove noodles from the pan and place them in a large casserole dish. Set aside. Preheat oven to 400 degrees.
3. Brown ground beef in a large skillet.
4. Season with dried parsley, pepper flakes, oregano, and nutmeg. Add onion, garlic, and diced tomatoes. Saute for five minutes.
5. Add tomato sauce and reduce heat to low.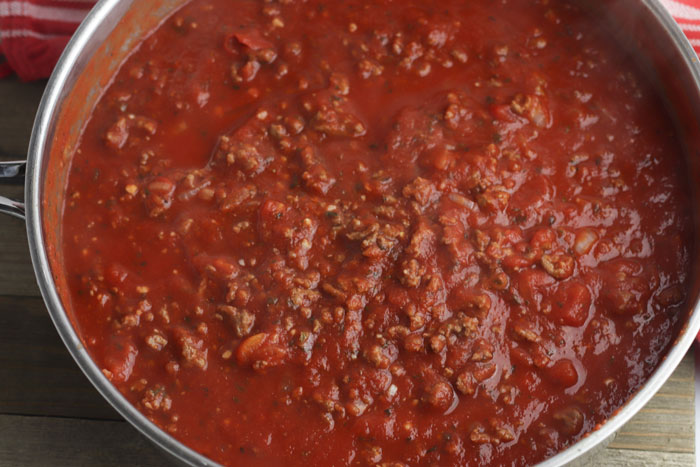 6. Allow sauce to simmer for 10 minutes.
7. Remove sauce from heat and allow to cool slightly. Remove two cups of sauce and pour the remaining sauce into a large bowl. Add ricotta cheese and one cup of mozzarella cheese. Stir to combine.
8. Fill a piping bag with sauce and cheese mixture. Pipe mixture into cannelloni noodles.
9. Cover noodles with remaining sauce and top with remaining cheese.
10. Place the casserole dish in preheated oven and bake for 25 minutes.
Top Tip for How to Stuff Cannelloni Pasta Tubes
I used to stuff the cannelloni pasta tubes with a spoon and boy was it messy!
That was until I set aside one of my piping bags and used that instead. I don't bother with a nozzle just use a silicone piping bag that I can wash and reuse every time.
Less mess, easier to stuff the cannelloni with the beef and cheese or just the sauce mixture and makes it so quick as well.
Just make sure that you block the sauce from going all the way through! Best way to do that stand the cannelloni tubes upright whilst you fill it.
Pasta Meal Ideas for Families
Pasta is one of our favourite dishes – why not try these easy family meals ideas with pasta for your family too.